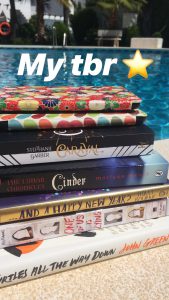 So, it's a long story, but I ended up sitting in hospital waiting rooms for something like thirty hours at various points during spring.  And obviously there were a few downsides to that, but for a bookworm like me there was an upside too – namely, that I got to make a dent in my ever-replenishing tbr pile.  Here was a snapshot of it taken in April and it seems I have knocked a few off, while just as quickly adding more (and going on a few detours too).  It's the Forth Bridge of books, but that's just the way I like it.  *Quick roundup of the books I read during an unusually cool and hospital-heavy Spanish springtime follows!*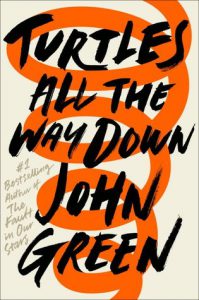 TURTLES ALL THE WAY DOWN
Worth the long wait for a new novel from this guy… I love John Green and I love how personal this one is, dealing as it does with anxiety.  And it's done well, since the MC's anxiety is something that's just a part of her, something that's made entirely relatable and understandable, yet causes problems for her and within her close relationships in a realistic way; her friends get fed up of it, her mum upset.  She needs to work her own way through it. The other characters have their own problems… nobody is anything other than fully three-dimensional here. I know people criticise the over-sophistication of JG's teenage dialogue but I find his faithful rendering of modern teens (if not their speech patterns) works for me in the same way that Dawson Creek and the OC once did.  You know what – it's just occurred to me as I write this that JG's books occupy a similar place in my heart? In the same way they're compelling, uplifting, entertaining, with characters and situations that draw you in. The fanfic stuff seemed a little thrown in, but maybe that's just me. Look, JG's just awesome and we all know it. Stop pretending.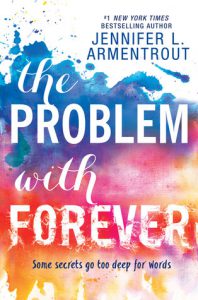 THE PROBLEM WITH FOREVER
I was into this.  I thought the portrayal of ex-care kids with baggage was sensitive and well done and thoughtful.  It was really intimately focused inside the MC's life and head and heart. And the love interest floated my boat for sure.  I mean, at times he was SO 'Brooding YA Hero' it was crazy. He was even called Rider – which is such an ultimate cliche it makes me wonder if it was done on purpose (it must have been, right?).  But, whatever – he worked for me. He had the sweet sensitive bad boy thing down so great it was like he invented it. And Paige growing up and coming into her own and navigating the world she's growing up in was well rendered.  Read the heck out of this in one straight sitting.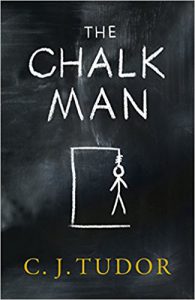 THE CHALK MAN
I had heard so much about this book that I just had to read it.  I think the comparison to Stephen King was what got me (I was the BIGGEST King fan in my teenage years, like a lot of people I guess) and I can completely see where that comparison came from in that this book is dark and scary and goes deep into the murky underworld that exists beneath the veneer of small town life.  There's something very filmic about it and I can totally imagine it getting adapted – is that happening yet?  It also has a whole thread that's set in the eighties in a nicely Stranger Things kind of way. I read this with the book club I'm in, and everybody to a man loved it.  A page turner for sure.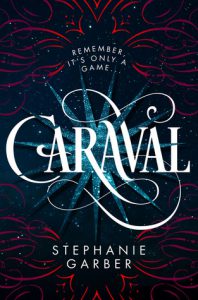 CARAVAL
Oh yes, very cool; so unique.  Maybe I'm crazy but it reminded me a little of where I live (mad Marbella on the Costa del Sol) as I read.  All this decadence and parties and wild, unpredictable stuff around every corner. So vivid and crazy – sights and sounds and colours and SMELLS – so many smells – CARAVAL feels like a feast for the senses.  It seems the MC is even a synesthete – which actually fits in super-well with the whole vibe. Some great characters are created here, a complex sister relationship at its core, and a decent side order of darkness to keep the whole thing close to the edge.  Really curious to read the next installment actually and see how this dark tale continues to unfold.
So onto a hot and sultry summer of more reading… and I'm hopefully shifting venues from hospital waiting rooms to *POOLSIDE BABY*!  More book-related ramblings will be forthcoming, only next time I'll be browner.