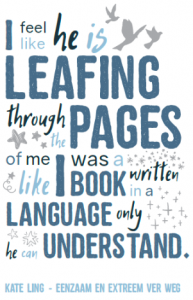 July 1st saw the release of the first translated foreign language version of The Loneliness of Distant Beings – Eenzaam en Extreem Ver Weg – in Holland.  So far, the Dutch publishers, bloggers, readers (well just about everybody involved) have been so positive and responded with such enthusiasm and I am super excited to have been translated into a language I don't even slightly understand so that I can reach a whole new set of readers.  Can you imagine how hard it is to translate a whole book?  Crazy.
On the left is the quote card the Dutch publishers produced with a book club who sent my book out in the monthly box to their subscribers.  There were two hundred of these cards that traveled all the way to Spain for me to sign, before heading back to Holland and into the homes of new readers.  A few of them even made videos of them"unboxing" and then posted them online (apparently this is a thing).  Obviously I have no idea what anyone is saying in these videos but I still think they're very cool:  http://www.celebratebooks.nl/unboxing/.
Tonight I will even be dropping in to an event over there (sadly only via Skype) but I am really looking forward to meeting (sort of) some of my readers over there.  Wish me luck!