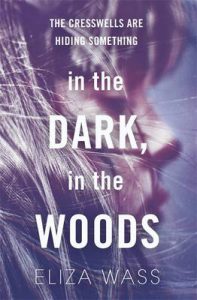 Well, this book got me into a lot of trouble.  I started reading it one night and literally could NOT stop until it was almost light and I realized I'd better get some sleep.  Then, in the morning, when I should have been doing other things, I snuck away to a hammock to finish it, re-appearing at lunchtime.  Since I was supposed to be spending rare quality time with them, my husband and kids were not happy about this turn of events and I was placed firmly In the Doghouse.  But, you know what, it was worth it.  This book is THAT GOOD.
Castley Cresswell and her five siblings live in the woods under the strict control of their father, whose non-specified religious zeal keeps them prisoners to his cruel ministrations.  This doesn't stop the siblings taking every opportunity to escape and wonder the woods at night, seeking experience of the world around them as adulthood beckons and an inevitable (and petrifying) tension builds.
Where do I start?  I mean you have the characters – the tough, funny, snarky, vulnerable Castley, the ethereally beautiful Caspar, the rebellious Mortimer, their terrifying father, the list goes on – all so well drawn and vividly rendered that, even though there's a fairly extensive cast I never once had to stop and remind myself of their identity.  Then there's the setting – so beautifully evoked that for the time I was reading the book I was THERE in the haunting darkness of the woods, the tumbledown repression of the house, the eerie strip malls, the intimidating high school hallways and grounds.  The atmosphere is so unsettling and dark throughout that, even though this is set in our modern day world, it rarely feels like it.  Early on, everyday things like coldsores and late night corner shops are imbibed with such horror that we as readers are able to see them through Castley's confused and tainted eyes.  As the story progresses, we share completely in her alienation from the "normality" which surrounds her but which she is unable to be a part of.  And her voice is so strong that we are unquestionably able to see it from this perspective and feel what it would be like to be in her shoes, as one of the weird and feared, but also fascinating and charismatic, Cresswell siblings.  Descriptions of George and several other of the high school interactions were so witty and accurate I actually did LOL.  And, oh man, I was just so in love with Caspar – is that weird?  Maybe it is.
Eliza Wass has written a unique and enthralling book – dark, funny, beautiful and terrifying by turns – which kept me gripped and captured my imagination completely.  Her writing is original and unusual and many of her descriptions and images left me wishing I had thought of them first.  I have already begun to highly recommend this book to everyone I meet, and this is set to continue (starting now).  If you haven't already – read it.