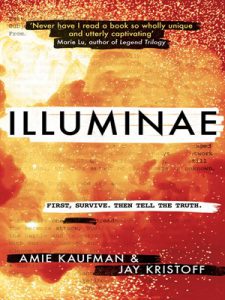 You can only hear about a book so many times before you realise you're going to have to read it for yourself.  And so it was with the much lauded Illuminae.  A dark, dirty, brutal space apocalypse of a novel that explores endurance, resilience and the nature of intelligence through records of conversations, documents, memos, IMs and emails, with inevitably shifting viewpoints.
It's hard to believe that a story told in this way could make the deep emotional impact that Illuminae does, and as a writer I sometimes found myself wondering why the authors had set themselves this specific challenge.  I couldn't initially see that this form could be anything other than a barrier to the telling of a great story and the building of a well-drawn world.  But, as it progresses, two things happen: one is that you become so used to it that you stop even noticing, and the second is that the realisation dawns that this particular story could only ever have been told in this particular way.
The central character's bravery, while staggering, never strays into the realms of the ridiculous.  My pet hate is heros who appear to feel no fear or hesitation; that's not courage, that's a psychological issue.  Kady's fear and trepidation and doubts and horror and pain are visceral and bleed through the page.  But in amongst it all, sitting incongruously in this inevitably cold and brutal environment, there is also warmth, love and humour.  Particularly in some of the IM sections, I actually had several of those bedtime LOL moments that make my husband look askance at me.  
(More looking askance occurred when I began tilting and peering at my Kindle, and a brief aside here on the limits of the format, for consideration when investing in this book.  Living in a country where I can't easily buy physical books in my preferred language means that I am usually a die-hard fan of the Kindle, but Illuminae's artistic ambitions and insistence on experimentation with form make this a challenge that the plucky device is not quite able to deliver on.  Although there was something inherently pleasing about reading it on a little glowing crystal display in the dark, almost like I was tucked into a corner of the spaceship myself.  That said, I definitely feel I missed out by not possessing it in full physical glory.)
Protagonists who are believable as both teenagers and everymen, a suitably cold and well-defined space setting, and a backstory that underpins and founds, without overwhelming, Illuminae weaves in the familiar while simultaneously subverting the expected.  Making thrilling use of elements of zombie apocalypse and high-brow cerebral sci-fi, as well as twisty political intrigue and high-octane action, Illuminae has the genre-defying air of a captivating epic just getting started.