For Sale: baby shoes,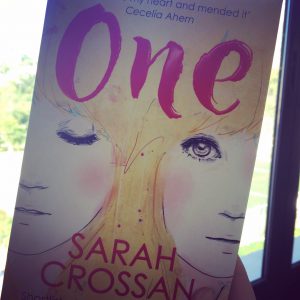 never worn.
Ernest Hemingway's much mythologised six-word story, illustrates very neatly how much can be evoked by very few words, as long as they are the right words, chosen with utter precision.  Such is the case with the exquisitely spare blank verse in Sarah Crossan's One, which paints a mesmerising picture of life as a conjoined twin in just a very few, perfectly placed brushstrokes.
It would have been the obvious choice to tell this as a dual narrative, but it is precisely the fact that it isn't told that way that lends extra impact to the story of Grace and her sister Tippi.  We have the individuality, the singularity of each girl, explicitly pointed out to us in order to gain a deeper understanding of how it must be to share your entire life, your very body in fact, with another person.  This is something that is so far beyond the normal realm of experience for most of us, but Crossan makes evoking it, in all its agony and beauty, look so effortless.
Like a particularly deftly crafted haiku poem, Crossan's poetry fills the empty spaces on the pages of this book with all the words left unsaid, by selecting just the right ones and nothing more.  Perfectly judged, sensitive, heart-wrenching, haunting, One's beauty lies in its deceptive simplicity.