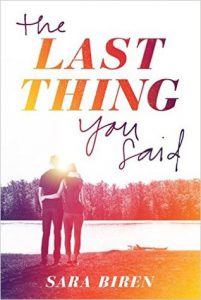 Winter is winter, even where I live in the South of Spain.  It's scarves and cold floors and lighting the woodstove and dark mornings.  Which is why an escape into a balmy midsummer in Minnesota lake country was exactly what I was looking for when I picked up The Last Thing You Said.
A year after the heartbreaking tragedy that drove them apart, Ben and Lucy are working summer jobs and hanging with friends and trying to move on.  The only problem is that every time they look at each other it all comes flooding back.  Told in a dual narrative, we are drawn into every detail of the protagonists' lives – their jobs, their families, their romances, their friendships, the constant struggle to move on and put the pain of the past behind them.
Aside from the intensely evocative setting which leaps off every page and surrounds you with starry skies and sun-drenched lakeshores as you read, one of the great strengths of TLTYS has to be its cast of supporting characters.  Friends, family members and love interests are so well drawn and defined that you become almost as invested in them as in the two leads.  And while there was much that was idyllic about these summer days, the life portrayed was grounded in responsibility, tainted by doubt and pain, shadowed by guilt.
There was much to like about the deeply flawed Ben, and this was where the dual narrative really came into its own.  While his behaviour, from the outside, had Lucy's friend Hannah declaring him a "moody little prick", getting to see things from his perspective made it clear how deeply his actions were rooted in his pain.  Intimate touches like his collecting and polishing of rocks and the building of the inuksuit (I loved learning about these) added depth and sensitivity.  I'm not a fan of dual narratives when it seems like there's no real point to them, but in this case the narrative was largely driven by the gap between the perception of behaviours and the truth of them, which was also completely appropriate within the context of looking at the different ways people deal with grief.
Flawed but likeable characters, a rich and unusual setting, emotional honesty – TLTYS is an atmospheric, absorbing and touching read.