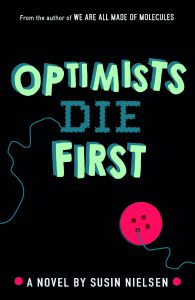 As soon as I read the title of this I had to read it.  I mean, this is actually a philosophy I hold pretty dear.  I go into most situations expecting the worst – after all, that's the only way to guarantee you'll only be pleasantly surprised.  
But there's a lot more to the path of Nielsen's protagonist than pessimism.  She's recovering from a horrible horrible tragedy, and doing it by pushing people away and approaching every situation with dread.  We see everywhere the tatters and echoes of a formerly happy life, which imploded the day her baby sister died.
There is a love story at the heart of this novel but at all times it feels like there is also a lot more.  Petula (great name!) is in the process of rebuilding her shattered soul piece by piece, and this means a lot more than just falling in love.  It's about her friendships, her family, the things she used to love doing and all through the narrative these are woven together into a rich tapestry.
I love the quirky details of Petula's world – the endless cats (and cat videos), the crafting and particularly the band of misfits at her art therapy group.  I've been in one of those myself actually and so I don't think of this part of the story as far-fetched at all – they're pretty interesting places.
What's even better is that this isn't all about the big happy ending; this is about the way people fight to survive, even when it seems impossible.  Inspiring, touching and funny by turns, Optimists Die First is a vivid and absorbing read.
Thanks to NetGalley for the eARC.