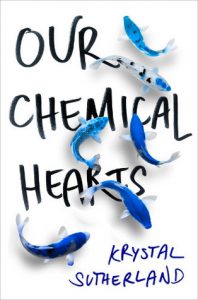 When the immensely likeable, self-deprecating and sensitive Henry first encounters the enigmatic, damaged Grace, they are being made joint editors of their school newspaper. They build a tentative friendship, and Henry finds his feelings for her growing, but it soon becomes clear that Grace's life has been complicated lately, and that this has taken its toll on her body and soul.
There's quite a lot of YA books that deal with similar subject matter to that of Krystal Sutherland's Our Chemical Hearts – first love, heartbreak, grief – but I have rarely seen them dealt with from so fresh a perspective. The real nuts and bolts, the most truthful of emotions, are sensitively depicted. There are no platitudes here. What's more, each character is given the space to show their darkest and lightest sides (and every shade of grey in between). We are not presented with heroes and villains, or innocent victims – Grace, for example, is depicted as someone who is cruel and difficult, as well as someone who is deeply wounded by what has happened to her. The visceral pain of unrequited love, loving someone even when we know we shouldn't, is all here, but treated with so light a touch that there is also space for lively, witty dialogue between the leads, and a great many warm and charming comedy moments from the quirky ensemble cast.
At times, Sutherland overlays a contemporary and familiar setting with some beautiful imagery, elevating ordinary suburban locations into something as ethereal and otherworldly as the philosophical questions posed in the themes of the book itself. There are a number of tonal shifts in the story, but not one of them seems abrupt or inappropriate. In fact, as with life, the collection of different moments, moods and emotions captured in this narrative come together into a compelling and mutually enriching whole, which is wistful, beautiful, thoughtful, truthful and sad, while also managing to be funny, unusual and irresistibly readable.