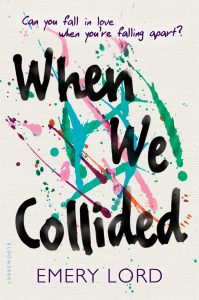 I thought it couldn't get any better than the depiction of bipolar disorder in All the Bright Places, and maybe it doesn't. But if there ever was a contender, it could be right here, in the beauteous, luminous When We Collided.
In it we are transported to a small, pretty coastal town where enigmatic, charismatic mini-Marilyn Vivi meets sensitive, handsome Jonah whose father has recently died, devastating his family. His mother's subsequent grief and depression have left him and his older siblings caring for his younger ones, struggling to pay bills and attempting to hold together the family business. Into this world of cares and responsibilities Vivi comes like a whirlwind, or maybe a rainbow, since the particular brands of joy, fun and love she is offering extend not only to Jonah but to the rest of his family too. And in bringing the sunshine back into their lives, she also begins to expose the darkness that they are all living with, including Vivi herself.
Riding around town on her Vespa, Vivi lives up to just about every MPDG stereotype except one – unlike most of her kind she does have her own trajectory, her own story, her own journey to go on. This is assured by the clever use of the dual narrative, in which the two voices are distinct and through which we get a heartbreakingly intimate and wholly convincing first-person view of the struggles of living with bipolar disorder; the sheer colour and exhilaration of the highs (and the accompanying recklessness), versus the debilitating and inevitable self-destruction of the lows.
I literally read this book in a matter of days. This is one of those that end up responsible for a series of 2am bedtimes on my part. There was just something so compelling about these characters, their oh-so-normal and yet otherworldly setting, the sense of doom that hung over even their most star-filled, swooping and gorgeous moments. Honesty, truth and beautiful little nuggets of wisdom shine out of the rich and sumptuous prose and will stay with me, meaningfully, for a long time. I mean, it's just so quotable I can't even pick one to include; suffice it to say that the things it pointed out to me and made me consider left me feeling that this is a book everyone needs to read.
So I'll end with an advisory: do not read this book unless you are prepared to be moved, to be surprised, to be compelled into staying up late to read one more chapter, to end up falling quite deeply in love with the characters, and to return from the journey it takes you on changed forever and for the better.