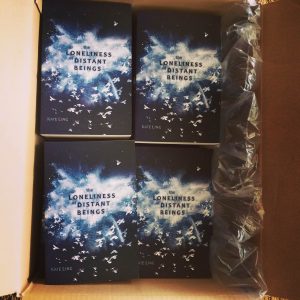 My finished copies truly are things of beauty.  This has exactly ZERO to do with me.  It has to do with the incredibly talented folk at Little, Brown and Hachette, particularly amazing jacket designer Sophie Burdess.
But that doesn't mean I'm not allowed to love them and be just a little bit obsessed with how gorgeous they are.  It's very pleasing that there is such beauty in the physical manifestation of this story, which (in my opinion anyway) is also pretty darn beautiful.
So the only problem now is the fact that I won't let anybody touch them.  I mean, obviously people can touch their own copies, but they CAN'T TOUCH MINE.  Not even my husband and kids can touch mine.  Especially not them.  They and their greasy fingers are not respectful enough of the sumptuously velvety soft matt finish.
Now and for the foreseeable future, I am to be found standing over my personal finished copies, growling at anyone who dares to come close and muttering like Gollum.