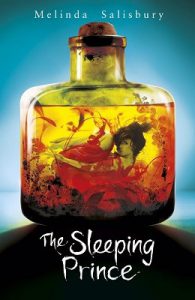 Middles of trilogies are funny beasts.  They can so easily miss and end up treading water, while in other cases they are genius – a dark-hearted unfinished symphony which serenades the reader across an ocean of unanswered questions, while also bringing something totally new and unexpected to the overall arc.  The masterfully crafted THE SLEEPING PRINCE definitely falls into the latter category.  
Not picking up directly from its predecessor but rather plunging us into a new and unknown part of Salisbury's darkly seductive and intoxicating world, we meet Errin, who is living a simple but troubled life as a countryside apothecary following the disappearance of her brother Leif.  When a war tears her world apart, Errin becomes caught up in a series of terrifying events, that bring her closer to the petrifying instigator of the conflict, The Sleeping Prince himself.
As with the first book, I found myself immediately absorbed into this story's world – the prose is so rich in detail and unusual imagery that reading it is a fully immersive sensory experience.  Despite an initial moment of disorientation and fleeting disappointment at not immediately following on with Twylla's story, I was soon caught up in the exhilaration of coming at the story from a brand new angle and with a new and distinct narrator.  The moving parts of Salisbury's mythology, from the alchemists to the golems to the myth/reality of The Sleeping Prince, are so vividly realised; her characters are so textured and well-drawn in all their light and shade.  The love story element lies beneath the narrative like a bassline, or perhaps a beat, handled with subtlety but nonetheless compelling and irresistible.  Is it just me who feels there could be any number of fantastic spin-offs from the characters and world that have been created here?
This perfectly plotted middle installment weaves another layer onto the rich tapestry of this wholly absorbing and chilling epic, priming us perfectly for a finale that will bring together the gilded, deepest crimson, grubby, bloodstained strands and take us who knows where.  A wholehearted five stars, and a serious case of writer's envy.