So it's the end of summer, which I love/hate* (*delete as appropriate).  The thing is, after more than five years of living here, I still haven't quite made up my mind about southern Spanish summers.  They are fiercely hot. I mean, it's brutal. Every day and every goddam night. Relentless. Air sizzling; cicadas screaming. I make up excuses to visit shopping centres and other public buildings that I know have kick-ass air conditioning.  I have to sit in front of a fan on max to have a coherent thought. I can't stand to wear underwear, anything that clings, or anything with a waistband, while dresses are out because my thighs stick together, so basically there are NO ACCEPTABLE CLOTHES IN THE WORLD.  Any footwear but flips flops is out of the question so my feet harden. The idea of any makeup is suffocating and there's no point doing my hair because it just sweats into a hot mess within five minutes. Luckily all of the above means that nobody I run into even recognises the baggy-shorts-wearing, part-melted, mole-eyed, cloven-hooved, wild-haired woman swearing to herself in front of the warm cava at the supermarket, so at least that's a bonus.
But I don't work my day job for July, or for most of August (which is lucky considering the clothing issue), and we have a swimming pool in our backyard and a beach down the road, so really I don't have an awful lot to complain about.  And there's a certain predictability about it that makes life easier. What will the weather be like today? No need to ask. It'll be screamingly hot, blazing blue skies, it'll make you want to shake your fist at the sun by early evening and yell "Damn you, you flaming ball of hellfire – just set already!" – so you can go ahead and plan that picnic.
What better time to try and coax my confused brain into catching up on some reading?  Which is exactly what I did. Here's my summer round-up (part one):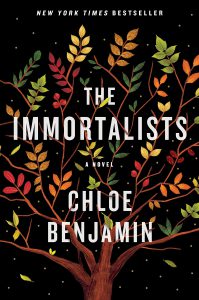 THE IMMORTALISTS
I loved this.  It starts with a great conceit.  It's the end of the sixties in New York and the Gold siblings visit a psychic who claims to be able to tell you when you will die.  Essentially, the rest of the book concerns itself with two questions – would you really want to be in possession of this knowledge, and what would you do with it if you were?  The book then deep-dives into the lives of the siblings as they span the decades, spending time with one at a time and really getting below the surface of the different worlds in which they find themselves – their relationships, their careers, the way they feel about the twists and turns their lives take.  In doing this it gives us insight into not only the way the world (or more specifically the US) has changed over the intervening decades but also into the way people develop over the course of their lives – priorities and dreams and philosophies shifting as they move from their teens and twenties into their thirties and forties and beyond.  From San Francisco's gay scene in the seventies and eighties, to the glitzy/seedy underworld of Vegas magic shows – there are regrets, loss, trauma, secrets and love; in each of the four sections of the novel, which feel like a story in themselves, another piece of the puzzle of the family's fortune is traced. This is a real page-turner without ever feeling predictable.  It's heartbreaking and melancholy and unusual and original and well crafted and slicky plotted and atmospheric and beautifully characterised. Do you remember that TV series they made in the nineties of Armistead Maupin's Tales of the City? It kind-of reminds me of that in some ways… it's probably largely the San Francisco thing, but also just a general atmosphere, a colour palette, an unflinchingly dark undertone overlaid with humour and warmth?  Not sure, but it put me in mind of it in a good way.
THE LIGHT BETWEEN US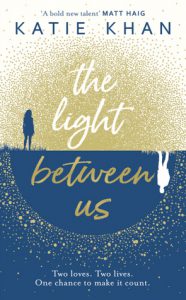 I love Katie Kahn because she writes in a zone in which I also consider myself a resident.  We're literary neighbours, as it were. She writes human, up-close personal trajectories in vivid, grand-scale sci-fi settings.  If you know my books, you'll know that her stories are pretty much literally Right Up My Street. In this one she moves from space and the future (the settings for her first book HOLD BACK THE STARS) to time travel, and I love time travel.  Ever since THE TIME TRAVELLER'S WIFE I've been a sucker for using time travel to explore human, emotional stories, while also throwing the reader off on some total headspins. What I love about this book is its central female foursome – academics, scientists, BFFs – and how fierce and fearless they are in their pursuit of discovery.  There's something refreshingly lo-fi about the science in this book – it happens in barns and gardens and outhouses and is held together by sticky tape (actually I'm not sure this last one happens but it gives off that vibe). Purists might be frustrated by the lack of scientific explanation but I was relieved. One of my favourite films in the world is INCEPTION, which manages the very clever trick of getting you to completely accept a very unlikely scientific concept (lucid dream sharing and delving into someone's subconscious) without questioning the theory behind it at all.  In a similar way, Kahn doesn't waste time on huge info dumps or anything like that and instead concentrates on giving us character and story and setting and atmosphere and rainy bike rides through London. There was a couple of loose ends maybe… but what good story answers all of the questions it poses? Doubly true of decent science fiction, and I'm keen to see what Katie does next (see what I did there?).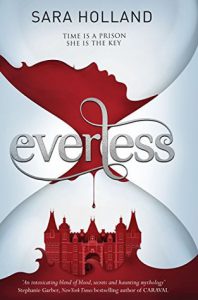 EVERLESS
OK so you know that movie with Justin Timberlake and Amanda Seyfried where people use the time they have left to live as currency – IN TIME?  This is built on a similarish premise, but set within a world that couldn't be more different. Let's say it's a fantasy version of IN TIME. I'm not at all sure if this is how Sara Holland would want it described but it's how I summed it up to my girls' reading group at school just before they unanimously voted to read it, and I should add that I love IN TIME.  I think IN TIME is, in fact, vastly underrated. So anyway EVERLESS is this kind of idea but more medieval and fantasy-ish and with a petrifying queen and a heroine with a special secret and a few extra twists like a town where… wait, no – that's a spoiler and I really really wouldn't want to spoil this. I read this on holiday in France and to this day I still can't look at my pictures of the River Loire without thinking about my trip through the world of EVERLESS.  To say I was disappointed when I jumped straight on to the Kindle Store to buy the sequel and found out that it's not out until January is an understatement. And I am NOT just saying this because I met Sara over the summer and she was lovely. That's just a bonus. To sum up, if you like RED QUEEN you'll like this, as they're kind-of similar in vibe. But if you're anything like me, you'll like this a heck of a lot more – fewer crazy fight scenes, more crazy cocktails and female friendship.
THE CRUEL PRINCE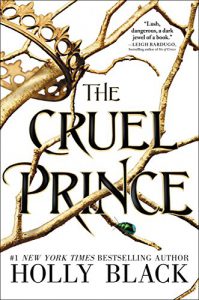 What is it about fairies?  I mean, I've gone on record before about how much I love SJ Maas' A COURT OF… series, and now this.  Man there is something about a tall, dark, morally questionable fairy male I can't resist. Ugh, that sounds terrible but you know what I mean.  For me the only problem is the title. I know Holly Black won't lose sleep over this as she has a legion of fans and absolutely no trouble selling books, but somehow it feels like this simplistic descriptor of a title vastly undersells this darkly beautiful twisted tale and its intoxicating, uneasy atmosphere.  In the early pages I kept wondering if it was going to turn out to be a pastiche, a patchwork of all the high fey, fantasy tropes we know (and love), but it turned out to be something entirely new and unexpected, with bolshy, loveable, flawed human heroine Jude dragged off to the fairy realm by a murderous stepfather and raised among the beautiful and deadly courts of the kingdom.  Bullied at school and feeling out of her depth, Jude is looking to wrest some power for herself through her strength and skill as a warrior, but is drawn down a shadier path into espionage. I was so THERE for this story. The characters are so well drawn and nuanced in their many shades of grey. Who should and shouldn't we trust? We as readers can never, never be sure. And there are hallucinogenic fairy fruits and wild parties and a crazy open-air magical fairy school and trips to the real world to go shopping in the mall.  Devoured it. Devoured it and left wanting more. Hopped straight onto the Kindle Store to buy the follow-up only to learn it won't be out until January. ARGH HOW WILL I COPE UNTIL THEN???!
Aaaaaannnnd I still have six more books to review from my summer reading so…. To be continued!