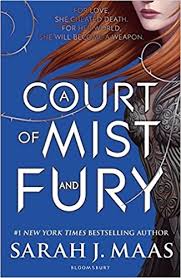 *SPOILER ALERT*  If you haven't read at least the first two "A Court of…" books turn back now, as there are some hints at major spoilers and, seriously, just no.
Book boyfriends.  We've all had them.  And as a writer of love stories I've even created a few of my own.  And I mean obviously I like mine. Obviously I think mine are pretty great.  I wrote them the way I wanted them. And you would think – who could write a book boyfriend more to my taste than me?  Nobody – surely. There's no way anybody could come along and conjure up a fictional man more enticing to me than one I quite literally designed to order – is there?
Step forward Sarah J Maas.  Now known to me as the creator of the ultimate, all-time number one book boyfriend.  But before we get to that let's rewind a little. Let's step back and give this whole thing some context.
There is a whole lot more to say than this about the "A Court of…" series.  I mean, there is, so much. For a start, Feyre. She's understated. She's an everyman.  She's totally kickass and a chosen one and all that good stuff, but she's also the kind of girl you know you'd like to hang out with.  Sometimes she's frustrating, but she mostly makes solid decisions and she's loyal and passionate and impulsive and fierce and she has that certain x-factor of likeability, and I'm here for it.
Then there's the world.  So this is a world divided between humans and fairies but these are not the little daisy chain, gossamer-winged, bottom-of-the-garden type fairies but the real deal – bigger than humans, pointy-eared, powerful, magical, dangerous, ethereally gorgeous, irresistible in more ways than one.
The fairy world is divided from the human world by a hard border, held in place by magic.  Over this border and into the fairy world the domain is divided into different 'courts', all ruled over by a high lord (shades of the patriarchy but, never fear, Feyre is here to challenge all that, and there are definitely plenty of strong females to keep all the bros on their toes).  In the first novel in the series we are largely concerned with the business of the Spring court, and much of the narrative is shaped as homage/tribute to Beauty and the Beast which, I'll be honest, I wasn't hugely keen on. What drew me in however, even at this early point, were the riveting glimpses into the rest of Maas' Prythia. It is utterly compelling, and with each page I found myself longing to find out more about each of the courts – Summer, Winter, Night, Dawn etc – with all their infinite possibilities for fashions and locations and architecture and philosophies and leadership stories and positions within a long and unfolding mythology which builds piece by piece into a rich tapestry that amazes but never overwhelms.  
And then about three quarters of the way through the first book, despite pacey narrative and the fabulous intricate world that Maas is drawing us into, Lord of the Spring Court Tamlin is hitting peak douche and we're almost in danger of losing faith in the whole enterprise.
And. Then.  We. Meet. Rhysand.
Rhysand.  Rhysand Rhysand Rhysand.  Dangerous, deadly, beautiful, sexy, powerful Lord of the Night Court.  Rhysand insinuates himself into our hearts in the usual way of the bad boy love interest, to the extent that initially I hated myself a little for how much I almost immediately adored him.  But I didn't have to hate myself for long…because Rhysand turns out to have pretty much the inside-out-upside-down of the typical bad boy trajectory. All we initially know about him is that he's bad news, and so of course our girl Feyre knows she needs to steer well clear.  Rhysand is quite literally the villain of the piece and not even pretending to be any different. It takes a while for the clues to creep in that there might be more to him, that at least some of his actions might be survival tactics necessitated by his position as consort/sex slave of scary dictator and femme fatale Amarantha.
If book characters can have chemistry Rhysand and Feyre have it.  In spades. Their immediate connection, even while still enemies, is palpable.  This is as much due to their banter and the way they call each out as it is to do with the intense sexual chemistry they're both in semi-denial about.  Every page they share blazes with it. It pretty much hijacked the story for me for a good portion of the series, and I was 100% on board that train.
So at this point let's talk about sex.  I mean, these books are laced with some of the most intense, explicit and just plain hot love scenes I've ever seen in something that is labeled as YA.  They're honest to the extent that I can rarely face loaning them out for fear of parental backlash. But you know what, I really wish I had the guts to do it more often, and I'll tell you why.  The love scenes in these books are truly sex positive. They are joyous, full of female gaze and desire, and all-time-number-one-book-boyfriend Rhysand is a considerate, generous, affirming lover. I really believe that young people should read these books and heed these scenes as an antidote to the torrent of crap they're exposed to during their wanderings on the internet and, if I wasn't so concerned about the conservative views of the mainly Spanish-Catholic parents of my library clients, I would die on that hill.
So, to conclude, a brief advisory – do not read these books if you don't want to spend the next several months working your way through every single thing Sarah J Maas' has ever written like a thing possessed and LOVING every minute of all of them.  And definitely don't read them if you don't want to fall in love with a fictional character. I have actually informed my husband that in an AU where Rhysand comes to life and falls in love with me I would leave him in a heartbeat. He's OK with it. He gets it.  He's even buying me the next instalment A COURT OF FROST AND STARLIGHT, for my birthday, which just goes to show – we all know real men can rarely measure up to fictional ones, but they're not so bad sometimes. And they do the hoovering and load the dishwasher and stuff so, you know, there's that.