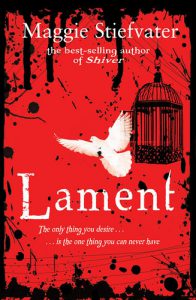 The intriguing back-jacket premise drew me into reading LAMENT when I was cataloguing it ready for the library shelves a few months ago, and I since then I have been recommending it willy-nilly with the following sales pitch: it's about fairies – not cutesy, end-of-the-garden, sugar-plum fairies though.  No, no, these are big, scary fairies.  Upon hearing this the client promptly checks the book out, and leaves feeling suitably intrigued.
The world evoked in LAMENT starts out familiar; it's our world – a world of school and summer jobs and ice cream and stripmalls.  What we and our MC Deirdre are soon to find out is that overlaying all of this (or perhaps running underneath like a secret river) is another, far stranger world – one of fairies, with unspeakable powers and ancient grudges, in which Deirdre is about to be irresistibly embroiled, whether she likes it or not.
Taking inspiration from real Celtic faerie mythology, LAMENT weaves a gossamer web of secrets, danger and dark magic.  Stiefvater's human characters are likeable and believable, while her fairies are as deadly and ruthless as they are beautiful and charismatic.  The whole adds up to an atmosphere that draws you in and stays with you even when you're not reading.  The drive of the narrative, the questions that need answering, and the completely unpredictable twists in how it unfurls have you suspicious of everyone and everything in the book's world, with the doomed love that grows at its core making it easy to imagine that there is plenty of excitement to fuel the sequel.  This is an addictive, original read that gets you tangled up in its ancient, darkly magical web.