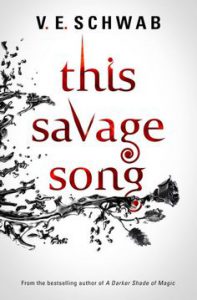 Monsters.  Under the bed, under the sea, looming over us with their huge spiked club mid-battle… over the years we've seen them all, but none quite like those that feature in VE Schwab's haunting, insidiously chilling THIS SAVAGE SONG, which I recently raced through in a few short days.
The monsters in this relentlessly dark future are real, walking amongst us, taking our form, but brought into being by our own evil deeds – the more unspeakable the horror the deadlier the creature that is created.  In this world, the edgy and difficult Kate is trying to find her way despite the machinations of her all-powerful father, and with the help/complication of charismatic new boy (and undercover monster) August.
A clever premise combines with unusual and intriguing characters to bring this appalling alternative society to life, and the reader is sucked in and lost amongst its brutal urban landscape of decay (both moral and physical) from the very first pages.  The pace of this book is somehow simultaneously hypnotic and frenetic, with plenty of action and horror to satisfy while also providing the space for a tender love story to blossom at its heart.  The fact that it also acts as an allegory for the 'evil that men do' and meditates on whether we can control the evil that may be innate, lying dormant but inevitable within us, also makes it a relevant read within today's global atmosphere of unrest and unease.  I will definitely be reading the sequel of this black-hearted urban symphony.